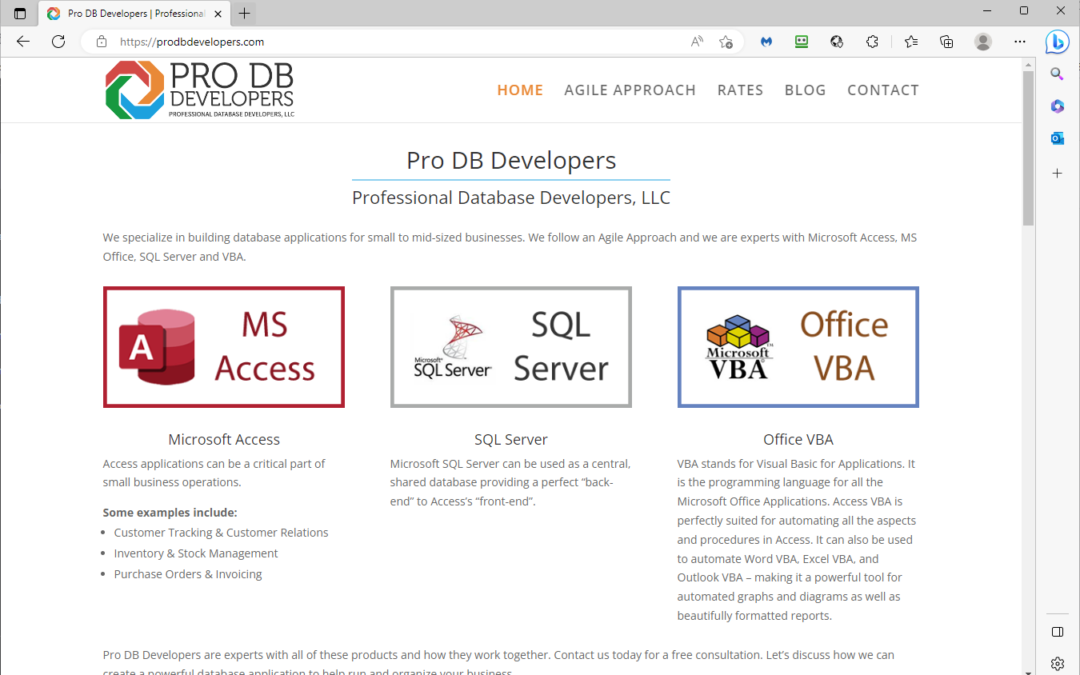 Well, I just started this company and this site so I guess I should write up something and get rid of "Hello World".
Starting a company is a journey that requires a lot of dedication and hard work. As the founder of Professional Database Developers, LLC, I can attest to the challenges and rewards that come with building a new business. In this blog post, I will share my experience and offer some advice to others who are considering starting their own company.
When I decided to start Professional Database Developers, LLC, I knew that I wanted to offer high-quality application development services using Microsoft Access and SQL Server. However, I also knew that I needed to develop a solid business plan if I wanted to succeed. This involved conducting market research, developing financial projections, and creating a marketing strategy.
One of the most important things I learned during this process was the importance of having a clear and defined target market. I knew that my services would be most valuable to small and medium-sized businesses that did not have their own in-house development team. By focusing my marketing efforts on this specific market, I was able to more effectively reach potential customers and generate leads.
Another challenge I faced when starting my company was establishing myself as an expert in Microsoft Access and SQL Server. While I had a strong background in these technologies, I knew that I needed to build my reputation if I wanted to attract new clients. To do this, I started writing blog posts and creating webinars that showcased my expertise. Over time, this helped me establish myself as a thought leader in my field and attract new business.
As a small business owner, I quickly realized that I needed to wear many hats. In addition to developing applications for my clients, I also had to handle accounting, marketing, and customer service. While this was challenging at times, it also helped me develop a well-rounded skill set that has been invaluable in growing my business.
Perhaps the biggest reward of starting my own company has been the ability to work with clients who truly value my services. By building strong relationships with my clients, I have been able to develop a steady stream of repeat business and referrals. This has been incredibly rewarding and has helped me to build a successful and sustainable business.
If you're considering starting your own company, my advice is to be prepared for hard work and challenges. However, if you're passionate about your idea and willing to put in the effort, the rewards can be well worth it. Don't be afraid to take risks, and don't be afraid to ask for help when you need it. With perseverance and dedication, you can turn your idea into a thriving business.